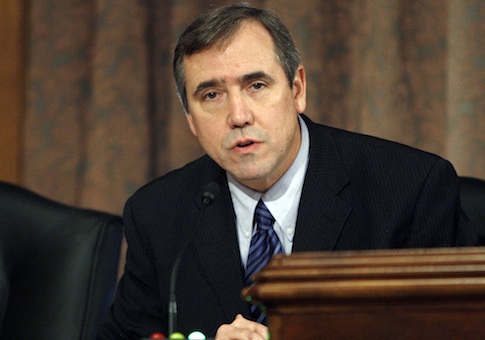 The senator who fronted a campaign against new sanctions on Iran earlier this year has since 1979 been advocating that the United States take a soft line on Iran due to his belief that America's global power and influence are waning, according to a copy of the lawmaker's 235-page college thesis obtained by the
Washington Free Beacon
.
Sen. Jeff Merkley (D., Ore.)
emerged in January
as one of the leading Senate Democrats who massaged the press on behalf of the Obama administration and pressured his colleagues to kill new Iran sanctions that were supported by a bipartisan majority of lawmakers.
Merkley's
public campaign
helped
stall the new sanctions
measure, indefinitely delaying congressional efforts to exert greater economic pressure on Tehran.
As a
Stanford University
student during the Carter era, Merkley embraced the inevitability of American decline and declared that the United States must coddle Iranians because of it.
Foreign policy experts consulted by the
Free Beacon
said that the 1979 thesis opens what they described as a troubling window into the senator's current thinking on the Iranian crises.
"Merkley shows his knee-jerk reaction is to snatch defeat from the jaws of victory," said Michael Rubin, a former Pentagon adviser on Iran and Iraq. "Unfortunately, it seems, Merkley as senator remains wedded to Carterism, even as he should realize its cost, and its alternative."
(Click link below to read more)
READ MORE
Sphere: Related Content