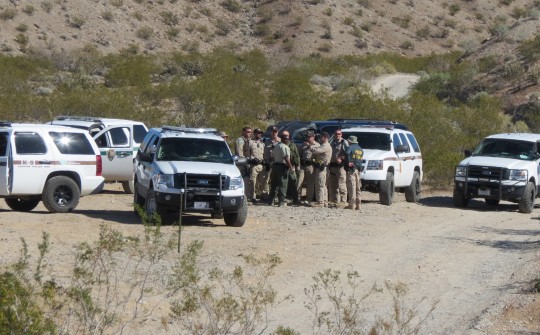 A two-decades-old battle between a Nevada rancher and the Bureau of Land Management (BLM) has resulted in officials armed with machine guns surrounding the ranch and forcibly removing the owner's cattle, according to the rancher's family.
Cliven Bundy, the last rancher in Clark County, Nev., has been fighting a "
one-man range war
" since 1993, when he decided to take a stand against the agency, refusing to pay fees for the right to graze on a ranch run by his family for centuries.
After years of court battles, the BLM secured a federal court order to have Bundy's "trespass cattle" forcibly removed with heavy artillery, the family said.
"The battle's been going on for 20 years," Bundy told the
Washington Free Beacon.
"What's happened the last two weeks, the United States government, the bureaus are getting this army together and they're going to get their job done and they're going to prove two things. They're going to prove they can do it, and they're gonna prove that they have unlimited power, and that they control the policing power over this public land. That's what they're trying to prove."
Bundy said the government has brought everything but tanks and rocket launchers.
"They're carrying the same things a soldier would," he said. "Automatic weapons, sniper rifles, top communication, top surveillance equipment, lots of vehicles. It's heavy soldier type equipment."
(Click link below to read more)
READ MORE
Sphere: Related Content