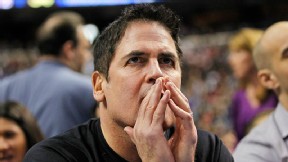 High Frequency Trading (HFT) covers such a broad swathe of 'trading' and financial markets that
Mark Cuban (yes, that Mark Cuban)
, who has been among the leading anti-HFT graft voices in the public realm, decided to put finger-to-keyboard to create an
"idiots guide to HFT"
as a starting point for broad discussion. With screens full of desperate "stocks aren't rigged" HFT defenders seemingly most confused about what HFT is and does,
perhaps instead of 'idiots' a better term would be "practitioners."
Via Blog Maverick,
First, let me say what you read here is going to be wrong in several ways. HFT covers such a wide path of trading that different parties participate or are impacted in different ways. I wanted to put this out there as a starting point . Hopefully the comments will help further educate us all
1. Electronic trading is part of HFT, but not all electronic trading is high frequency trading.
Trading equities and other financial instruments has been around for a long time. it is Electronic Trading that has lead to far smaller spreads and lower actual trading costs from your broker. Very often HFT companies take credit for reducing spreads. They did not. Electronic trading did.
We all trade electronically now. It's no big deal
2. Speed is not a problem
People like to look at the speed of trading as the problem. It is not. We have had a need for speed since the first stock quotes were communicated cross country via telegraph. The search for speed has been never ending. While i dont think co location and sub second trading adds value to the market, it does NOT create problems for the market
3. There has always been a delta in speed of trading.
From the days of the aforementioned telegraph to sub milisecond trading not everyone has traded at the same speed. You may trade stocks on a 100mbs broadband connection that is faster than your neighbors dial up connection. That delta in speed gives you faster information to news, information, research, getting quotes and getting your trades to your broker faster.
The same applies to brokers, banks and HFT. THey compete to get the fastest possible speed. Again the speed is not a problem.
(Click link below to read more)
READ MORE
Sphere: Related Content