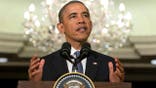 Barack Obama's Asia tour had the look and feel of a tired, uninterested president simply going through the motions.
Other than just showing up, Obama did precious little to advance our interests or demonstrate his oft-promised "pivot" to Asia. The trip was instead overshadowed by Ukraine's continuing crisis and the collapse of Israeli-Palestinian negotiations. And the visit's real legacy, the spreading impression of U.S. lassitude and weakness, is profoundly dangerous.
In particular, Obama made no progress on Asia's most pressing issue, Beijing's assertive territorial claims in the East and South China Seas, thus missing a significant chance to deter future Chinese belligerence.
Obama repeated Washington's standard view that (1) the U.S.-Japanese mutual defense treaty covers the disputed Senkaku/Diaoyu islands (claimed by Japan, Taiwan and China, administered by Tokyo); and (2) sovereignty over the islands remains undecided. Even while reaffirming the bilateral treaty, Obama could not restrain himself from noting it was signed before his birth, and that
he
was thus not drawing a new "red line." This sign of personal vanity and weakness was not lost on Beijing or other Asian capitals.
(Click link below to read more)
READ MORE
Sphere: Related Content