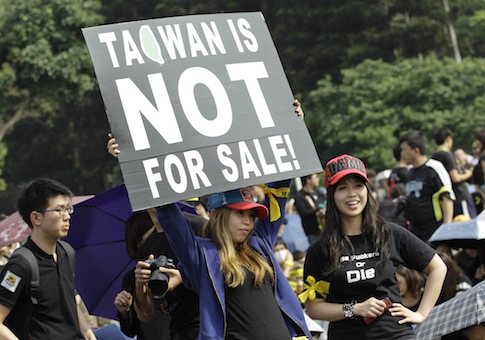 More than 100,000 Taiwanese protesters over the weekend voiced concerns that a proposed trade pact with China would leave the democratic island increasingly beholden to its neighbor's interests.
The protests
swelled
on Sunday in opposition to the deal that would open up dozens of service sectors to trade between Taiwan and China. Demonstrators have also occupied Taiwan's parliament building.
Protesters warned that China was attempting to "invade" Taiwan by economic means and called on President Ma Ying-jeou to reconsider the trade deal, which must still be ratified by Taiwan's legislature. Ma has sought closer relations with China and
secured
the Economic Cooperation Framework Agreement (ECFA) in 2010 to lower tariffs between the two countries.
Claude Barfield, resident scholar at the American Enterprise Institute and former consultant to the U.S. Trade Representative during the Ronald Reagan administration, said in an interview that the protests could serve as a prelude to
local elections
in November.
Potential Chinese access to Taiwan's financial and legal services, for example, hit "closer to the nub of political sensitivities" and have stoked a nationalist backlash, he said.
(Click link below to read more)
READ MORE
Sphere: Related Content