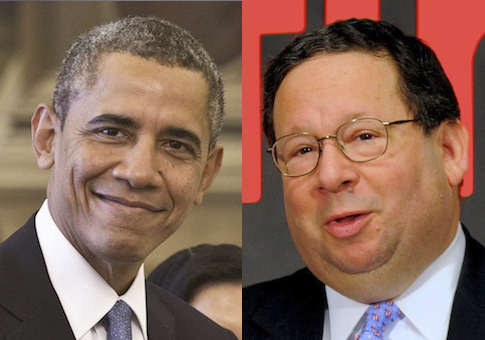 The communications giant Comcast announced in February that it would buy Time Warner Cable for $45 billion, creating the largest cable provider in America,
with more than 33 million customers
. That is about one third of the U.S. cable and satellite television market. FCC approval is required for the merger to go into effect. Critics of the deal say it would lessen competition and lead to even shoddier customer service. They are probably right, as all of us will soon find out, because there is little chance the merger will be stopped. Comcast, Time Warner, and their political fixers have spent years preparing for this moment—by buying off the Democratic Party.
Comcast,
which employs more than 100 lobbyists
, spent
almost $19 million last year on lobbying activities
. Its president and CEO, Brian L. Roberts, is
a golf buddy of President Obama's
, and a Democratic donor who has contributed thousands of dollars not only to the president's campaigns, but
also to the Democratic Party of Pennsylvania, the Democratic Senatorial Campaign Committee
, the DNC Services Corporation, and to Steny Hoyer, Kirsten Gillibrand, and Bob Casey. Roberts' executive vice president, David Cohen, is a former aide to Democratic bigwig Ed Rendell. Cohen skirts lobbying regulations through loopholes, has
raised more than $2 million for Obama since 2007
, and
in 2011 hosted a DNC fundraiser at which the president called him "friend
." Cohen has visited the White House
14 times since 2010, including two visits to the Oval Office
. He attended the recent dinner for President Hollande of France.
(Click link below to read more)
READ MORE
Sphere: Related Content