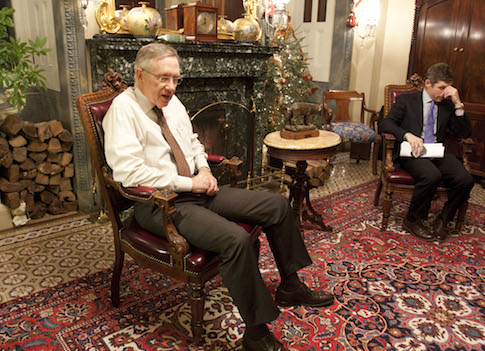 Democratic members of Congress and the Obama administration have
extensive ties
to Comcast and Time-Warner, the two cable giants currently awaiting approval from the Federal Communications Commission on a $45 billion merger.
One that has gone mostly overlooked: Senate Majority Leader Harry Reid's (D., Nev.) chief of staff, David Krone, is Comcast's former senior vice president for corporate affairs.
Krone moved from Comcast to Reid's office in 2011 under ethically questionable circumstances, TalkingPointsMemo
reported
at the time:
Majority Leader Harry Reid's chief of staff, David Krone, left a highly lucrative gig at Comcast before working for the Senator. As part of his exit from the company, he's collected $1.2 million in additional payment since taking his job with Reid.
[…] Krone's $1.2 million stem from a severance arrangement in which Comcast purchased his house at above-market value when he left to cover any losses he would have incurred in moving to take a job with the cable giant. When the house was resold by the company at a much lower price, Krone listed the difference as "condo reimbursement" in his financial disclosure forms.
(Click link below to read more)
READ MORE
Sphere: Related Content