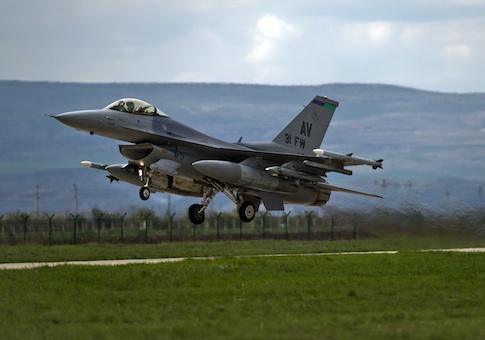 The Russian government this week canceled a planned U.S. surveillance flight over Russian territory in a bid to limit spying on massed troops facing off against Ukraine and Eastern Europe, according to U.S. officials.
The overflight mission was scheduled for April 14 to April 16 under the 1992 Open Skies Treaty, but Russia's government notified the State Department 72 hours before the scheduled flight that it would not be permitted.
The cancelation is unusual because the sole reason for putting off such treaty-approve surveillance is flight safety, such as bad weather.
Until this week, the United States and other European allies who are a party to the 34-nation treaty were conducting weekly overflights above Russia during the past month.
The Russian cancelation of the flight comes amid heightened tensions between Russia and the West over the crisis in Ukraine, where Russian troops militarily annexed the Crimean peninsula last month and continue to foment pro-Russian unrest in the eastern part of the country.
The cancelation further undermines the Obama administration's arms control-centered security policies. Russia recently was accused of violating and circumventing other arms treaties, including the 2010 New START arms treaty and the 1987 Intermediate-range Nuclear Forces Treaty.
Until this week, the overflights had been providing close up aerial observation of Russian military deployments near Ukraine and near NATO allies in Eastern Europe where concerns are increasing about Russian military aggression.
(Click link below to read more)
READ MORE
Sphere: Related Content