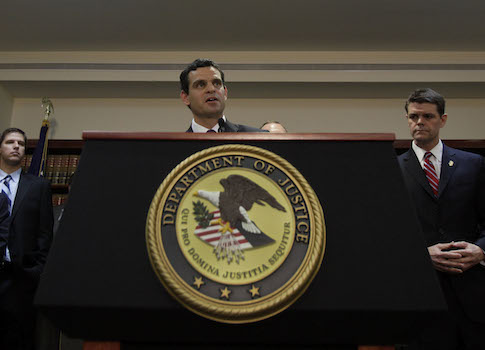 Senate insiders say that senior Treasury Department officials have been lying for years about their backroom efforts to oppose and dismantle Iran sanctions legislation that ultimately forced Tehran to the bargaining table over its illicit nuclear program.
Top officials in the Treasury and State Departments are said to have staunchly opposed the 2011 passage of the sanctions legislation authored by Sens. Bob Menendez (D., N.J.) and Mark Kirk (R., Ill.), and even worked to dismantle key pieces of the bill after it was passed by the Senate in a 100-0 vote, according to senior Senate insiders who worked on the legislation.
Treasury's role in the backroom negotiations over the bill were thrust into the spotlight earlier this month when Treasury Under Secretary David Cohen entered a heated exchange with Kirk over the administration's opposition to sanctions.
Kirk, as well as Senate insiders who spoke to the
Washington Free Beacon
, said that Cohen was not truthful in his testimony and is attempting to rewrite history in a bid to whitewash the Obama administration's long opposition to tough Iran sanctions.
"I would say, David, you didn't highlight something in your testimony," Kirk said in the
April 2 hearing
. "You also said that the sanctions that Congress unanimously supported were key to bringing the Iranians to the table. What you didn't say was that you vigorously opposed the passage of the Menendez-Kirk sanctions."
(Click link below to read more)
READ MORE
Sphere: Related Content