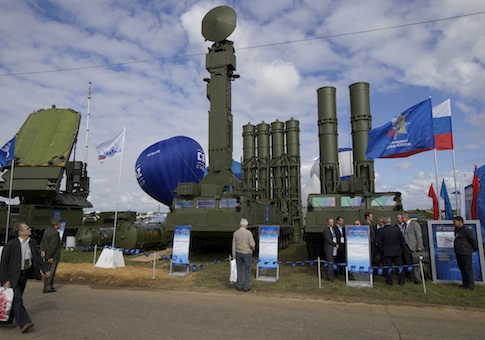 Iran and Russia's recently announced $20 billion oil-for-goods trade deal has sparked concerns that Moscow is seeking to open up a direct line into Tehran for the import of sanctioned nuclear equipment and military hardware, shipments that would flatly violate the terms of the recently inked interim nuclear deal.
Tehran and Moscow are in the last stages of finalizing the trade deal, which would provide Russia with half-a-million barrels of Iranian oil a day. The deal would boost Iranian exports by as much as 50 percent a day,
according
to experts.
The trade deal could open the floodgates between the two nations and has sparked concerns that the trade pact will open a "channel for the transfer of sanctioned nuclear equipment or military hardware to Iran, not to mention other illicit financial transactions," according to Mark Dubowitz, executive director of the Foundation for Defense of Democracies (FDD).
The trade deal also led Sens. Mark Kirk (R., Ill.) and Robert Menendez (D., N.J.) to demand that the White House immediately reinstate harsh sanctions on Iran if it goes through with the deal and violates the interim agreement, which provided Iran with more than $7 billion in sanctions relief.
(Click link below to read more)
READ MORE
Sphere: Related Content