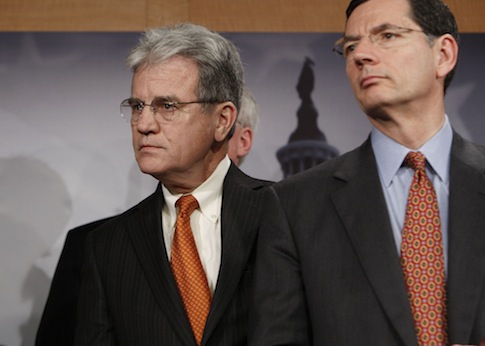 Sens. Tom Coburn (R., Okla.) and John Barrasso (R., Wyo.) released a
new report
Tuesday evening highlighting Obamacare's failures, including forcing millions of Americans off their health insurance plans and adding $1 trillion in new taxes.
The senators, both of whom are physicians, followed up on three previous reports dating back to July 2010 that warned of the dangerous side effects of the health care law.
"For millions of Americans, Obamacare itself has become a pre-existing condition that has limited their access to quality, affordable health care," Coburn said in a statement. "As we warned in our previous reports, Obamacare is fundamentally flawed. The law strengthens the hand of government and weakens the hand of doctors and patients. Obamacare is cutting choices, not costs, and costs will likely continue to rise."
Coburn and Barrasso
predicted
in 2010 that millions would lose their health insurance plans. As of January, more than
five million
Americans have had their insurance cancelled, with 1.1 million notices occurring in California alone.
"Despite President Obama and Democrats' promises that 'if you like your plan you can keep it,' more than five million people in 35 states have lost their current health insurance plans due to Obamacare," the senators wrote.
The senators said the outcome was "worse than we imagined."
(Click link below to read more)
READ MORE
Sphere: Related Content