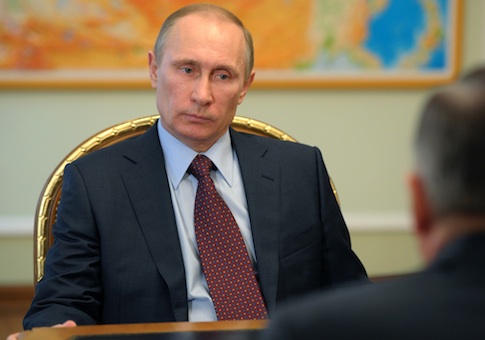 Senators say the White House must take immediate steps to stop Russia from seizing more territory from post-Soviet states, including Moldova and Georgia.
U.S. intelligence officials have warned senators that Russian President Vladimir Putin is well positioned to send troops into Moldova and Georgia following his successful annexation of Ukraine's Crimea region.
The information led Sen. Jim Inhofe (R., Okla.) to pen a resolution on Wednesday that
warns
Russia against invading Moldova and demands that it remove some 1,200 troops and military stockpiles it has stationed in the country.
The
resolution
, which will be formally introduced in the Senate Thursday evening, has already attracted the support of Sens. Mark Kirk (R., Ill.), Saxby Chambliss (R., Ga.), Deb Fischer (R., Neb.), and Tom Coburn (R., Okla.), according to a Senate source tracking the bill.
The measure calls on Russia remove all of "its military forces and material" from Moldova's territory and further "urges the president to consider increasing security and intelligence cooperation with the government of Moldova."
The call for Obama to boost intelligence sharing was not originally included in the draft version of the measure but was added to the final version on Thursday.
Inhofe, in a statement to the
Washington Free Beacon
, said the Obama administration did not respond strongly enough to Putin's actions in Ukraine. He and other senator supporting the resolution say it is time to stand up to Moscow.
(Click link below to read more)
READ MORE
Sphere: Related Content