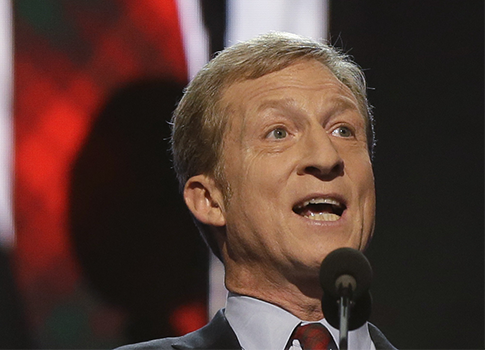 The former hedge fund of one of the Democratic Party's most important donors was allegedly involved in a scheme to defraud foreign investors out of tens of millions of dollars, according to
documents filed
in a Texas
court
.
Farallon Capital Partners L.P., a fund run by Farallon Capital Management, the multibillion-dollar hedge fund founded by Democratic donor Tom Steyer, became a limited partner in a project to build a large shopping mall near Seattle, Wash., in the mid-1990s after it guaranteed a line of credit for the project.
According to the Texas case, Farallon and other parties involved in the deal allegedly operated "in conjunction with" foreign-owned corporations in Texas "to defraud a group of over three-hundred German investors out of approximately sixty-million dollars."
A "Ponzi scheme" in which the companies planning to build what was to be called the Washington Supermall "transfer[red] millions of dollars in funds through 'loans' and 'advances' to other unrelated entities," the plaintiffs alleged.
"At the end of the scheme," the plaintiffs say, "after the money-drained Supermall project was sold in January of 1998, the remaining funds were distributed to the entities that had assisted the [foreign-owned] entities in their scheme, including … Farallon Partners, in improper preferential distributions that ultimately left the German investors with nothing to show for their $60 million investment."
The case, which was dismissed on jurisdictional grounds—the court agreed with Farallon that it didn't operate in Texas and hence could not be sued there—is being re-examined by the Republican politicians and activists scrutinizing the record of the billionaire and controversial environmentalist, who has pledged
$100 million to help Democrats in this year's midterm elections
.
(Click link below to read more)
READ MORE
Sphere: Related Content