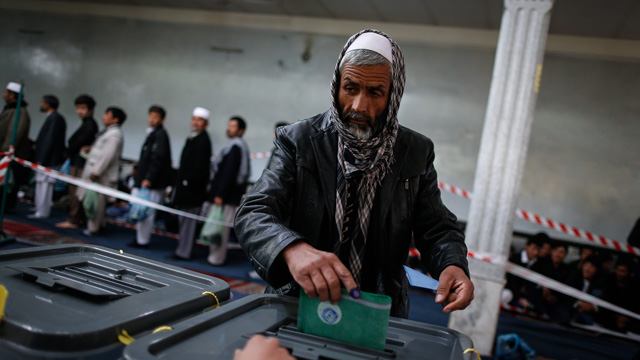 Afghanistan's election Saturday was a triumph–but we should not exaggerate its likely impact. Granted, it was inspiring to see so many Afghans, an estimated 7 million of them, braving the threats of the Taliban to exercise the franchise. This was a grassroots endorsement of democracy and a rebuke to anyone who thinks people in Afghanistan or other poor countries are indifferent to how their government is selected. To the contrary, Afghans desperately want a say in selecting their leaders–as the election so powerfully demonstrated.
That the Taliban failed to disrupt voting, moreover, was a tribute to the Afghan security forces, 350,000 strong. They had the lead role in protecting ballot booths and they seemed to have performed very capably.
But let's not get overly euphoric. Recall that in Iraq President Bush welcomed each election which took place, claiming that the very fact of voting would help to restore order and allow American troops to leave responsibly. It didn't work out that way. In fact in Iraq elections reinforced, rather than resolved, sectarian divisions.
How things work out in Afghanistan remains far from clear. Now that ballots have been cast, there is a major challenge to count them fairly. Fraud is still possible in the counting stage. Beyond that there is the paramount issue of who will emerge on top in the voting.
The three leading candidates are said to be Ashraf Ghani, Abdullah Abdullah, and Zalmai Rassoul. All three men, who have served at various times in Hamid Karzai's cabinet, are qualified for the top job and reasonably friendly to the United States. All three have indicated they will sign the Bilateral Security Accord that Hamid Karzai negotiated. But there is a huge question as to whether any of them will be up to the job of improving one of the most corrupt and dysfunctional governments on the face of the earth and defeating one of the most potent insurgencies in the world.
(Click link below to read more)
READ MORE
Sphere: Related Content