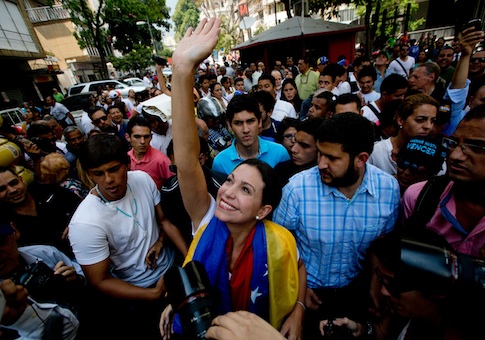 Venezuela's Supreme Court on Monday approved the ouster of a prominent opposition lawmaker from the country's National Assembly, a move that critics say undermines the rule of law and will only fuel more violence.
Venezuela's highest court
backed
the removal of
Maria Corina Machado
, one of the top leaders of protests against President Nicolas Maduro's regime that have resulted in nearly 40 deaths. The demonstrators—protesting against the country's soaring crime rates, inflation, and shortages of basic goods—blame state security forces and pro-government militias for the majority of deaths.
Machado was removed for
speaking
at the Organization of American States (OAS) in Washington, D.C., last month in violation of Venezuela's constitution, the court said.
The OAS, which has been criticized for its pledge not to "intervene" in Venezuela, voted to keep the meeting private and only allowed Machado to speak during a part of the session devoted to ad hoc issues.
Still, members of Maduro's Socialist party said the constitution mandates that Machado should have asked for congressional approval first. National Assembly Speaker Diosdado Cabello said Machado is now stripped of her legislative immunity and might be investigated for "treason to the fatherland."
Machado remained defiant on Tuesday,
writing
on Twitter that she is a "deputy today more than ever" and that she will continue to serve until the Venezuelan people forbid her.
(Click link below to read more)
READ MORE
Sphere: Related Content