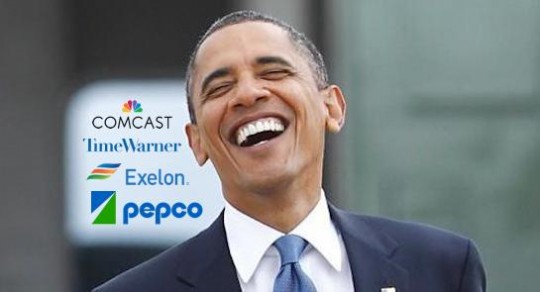 The Obama business empire continues to expand. Earlier this week, Chicago-based utility giant Exelon
announced
that it was buying the Washington, D.C.-based utility giant Pepco Holding for $6.83 billion.
The decision comes at a time when Exelon finds it necessary to
dispel rumors
that it is seeking a bailout from the Illinois state government to prop up its struggling nuclear power plants.
The deal would create a corporate behemoth serving some 10 million customers worth about $26 billion. Exelon has dedicated $100 million for an investment fund for Pepco customers that will provide assistance for low income customers and fund a variety of "energy efficiency measures."
Both companies have long histories of giving money to Democrats. Since 2008,
Pepco
(and its
political action committee
) has given at least $688,338 to political candidates and committees, almost all of which ($617,813) has gone to Democrats.
Exelon
(and its
political action committee
) has given more than $2.8 million to Democrats during that same period.
As luck would have it, Exelon has deep ties to President Obama, and as the
New York Times
reported
in 2012, the utility giant has exploited these ties to their advantage.
(Click link below to read more)
READ MORE
Sphere: Related Content