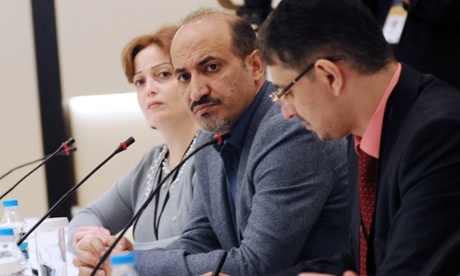 While the opposition Syrian National Coalition, headed by Ahmad Jarba,
has been meeting with US officials this week
in Washington in an effort to secure further support, including more funding and additional antitank and antiaircraft weapons, news from Syria indicates that some advanced US-made weapons are already being used in various Syrian provinces by rebel fighters.
Over the past few weeks, media reports have stressed that US officials have begun a "pilot program" of providing small quantities of advanced weapons, including TOW missiles, to vetted "moderate" groups, and specifically the Harakat Hazm, which fights in a newly formed coalition called the Southern Front. [See
Threat Matrix
,
The shadowy flow of US weapons into Syria
.]
As we at
LWJ
have pointed out, however, alliances and accommodations between the so-called 'moderate' rebel groups and the Islamists have made it very difficult for outside backers of the Syrian opposition to ensure that weapons and other aid provided does not end up in the hands of the Islamists, who dominate the battlefields. [See
Threat Matrix
,
Southern Front tries to disassociate itself from Al Nusrah
, which illustrates that an increasing number of reports from 'moderate' commanders claiming independence from Islamist groups such as Al Nusrah appear to be concocted in order to secure the provision of more weapons and funding from the West.]
Yesterday the opposition activist group
Syrian Observatory for Human Rights (SOHR) reported that the Islamic Front
, a large coalition of mainly Islamist fighting groups, was using US TOW missiles in clashes in Aleppo against the forces of President Bashar al Assad and allies. According to SOHR, the Islamic Front (which it refers to as "Islamic battalions") employed the weapons in Aleppo's Al Sheik Najjar area and near Al Brej, and possibly near the air force intelligence building in Al Zahraa district as well.
(Click link below to read more)
READ MORE
Sphere: Related Content