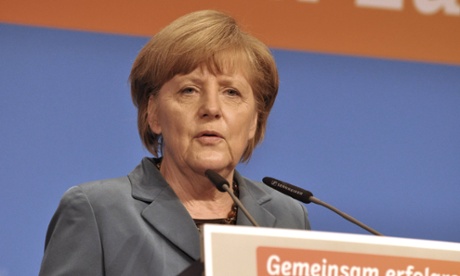 The White House has ordered that US data privacy protections will soon be extended to non-Americans in an announcement that seems timed to take some of the heat out of Friday's meeting with German chancellor Angela Merkel.
Though separate from the administration's earlier review of intelligence activities including the bugging of her phone, the report, led by senior adviser John Podesta, touches on many of the associated privacy concerns raised by the European Union in ongoing trade negotiations.
Its release, which came with no notice just hours before Merkel was due to land in Washington, also coincides with a visit by European Commission president José Manuel Barroso to Silicon Valley.
The report on "
Big Data and Privacy
" makes six recommendations for action, although most involve calling on Congress to pass additional legislation or review existing guidelines.
But in conference call with reporters Podesta said that work to apply the 1974 Privacy Act to non-US persons would begin immediately and could be completed within six to 12 months.
Officials will seek to make sure US government departments and companies treat data on foreigners with the same privacy safeguards "where practicable, or to establish alternative privacy policies that apply appropriate and meaningful protections to personal information regardless of a person's nationality".
(Click link below to read more)
READ MORE
Sphere: Related Content